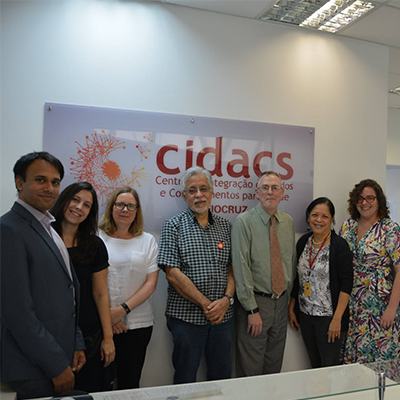 Project analysts Ana Carolina Gomes and Fernanda Sousa traveled to Salvador, Bahia, for a meeting on August 21-22 of the Center for Data and Knowledge Integration in Health (CIDACS/FIOCRUZ) and the UK National Institute for Health Research (NIHR). The aim of the meeting was to discuss the "Global Health Research Group on Social Policy and Health Inequalities", a project in its initial phase funded by the NIHR, and that resulted from a collaboration between CIDACS and the Medical Research Council/Chief Scientist Office Social and Public Health Sciences Unit (MRC/CSO SPHSU) at the University of Glasgow, Scotland.
Coordinated by Maurício Barreto, researcher at FIOCRUZ Bahia and Coordinator of CIDACS, the initiative proposes studies on health inequalities and the assessment of progress with the United Nations Sustainable Development Goals (SDGs) in relation to non-communicable diseases (NCDs) in Brazil. The initiative also includes a "Cohort of 100 Million Brazilians" to assess the impact of public policies for social protection, like Bolsa Família and "My House, My Life" on NCDs, especially cardiovascular diseases, stroke, hypertension, and diabetes. The project also includes research training in Latin America and links between the various actors interested in the respective themes.
According to Ana Carolina, it is essential for FIOTEC to engage in this kind of partnership, since it involves greater contact with funders and heightened international exposure for the institution. "I had the opportunity to present FIOTEC to the representatives from the University of Glasgow, and to participate in the initiative's strategic planning and exchange experiences with our international partners. Mauricio Barreto's work at CIDACS is of the utmost importance, and this new partnership is certain to bear good fruit and relevant results," explains the analyst.
Cohort of 100 Million Brazilians
The "Cohort of 100 Million Brazilians" is a CIDACS platform that aims to develop an unprecedented and innovative cohort to allow studying social determinants and the effects of social policies and programs on different health aspects in Brazilian society. To achieve this objective, it uses the database from the Unified Registry (CadÚnico), which links data from social programs and other databases from health information systems, like mortality, live births, transmissible infectious diseases, and non-communicable diseases, among other outcomes.
Center for Data and Knowledge Integration in Health – CIDACS
CIDACS uses large volumes of data to assist the search for solutions to scientific questions in the health field in studies conducted at the center. Each study is developed according to a platform – which combines scientific data, studies, and projects, according to the specific theme.
The data come from various government databases ceded to the center and are processed with an Omolu supercomputer, which has an architecture designed to process big data, with 1 terabyte of memory, 96 processing cores, and 50 terabytes of storage. The Omolu is housed in the supercomputing center of SENAI-CIMATEC, a partner of CIDACS, and is accessed in the "Secure Room", an environment without internet access that follows the highest security standards, where no electronic devices are allowed to enter. CIDACS seeks alignment with the principles of Open Knowledge and Data, ensuring the availability of data without compromising privacy through anonymization and rigorous information security standards.
*With information from the Center for Data and Knowledge Integration in Health (CIDACS)