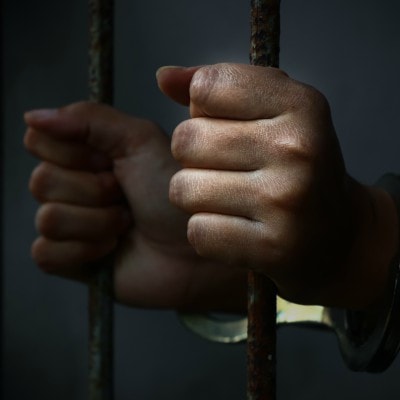 In January 2017, a prison riot lasting 17 hours in Manaus killed at least 60 inmates. In the same week, 33 inmates died during a riot in a penitentiary in Roraima. Just days later, in Rio Grande do Norte, 26 prisoners lost their lives during a riot in the Alcaçuz State Penitentiary. Later that same month, 200 inmates escaped from the prison farm in Bauru, São Paulo. Four different stories of the same problem: the crisis in the Brazilian prison system.
Although the incidents all took place in 2017, we are not talking about a new problem. Brazil's precarious prison system is a reality. According to the National Prison Survey in 2014 conducted by the Ministry of Justice, Brazil has the world's fourth largest prison population, next only to the United States, China, and Russia. More than 600 thousand people are deprived of their freedom in the country. That is nearly double the national prison capacity, which is approximately 380 thousand. The prison population increased by 267% in 14 years, and the tendency is to grow even more. This is precisely one of the main problems.
In late 2016, even before news of the prison riots made the headlines, Francisco Inácio Bastos, FIOCRUZ researcher and coordinator of various studies related to drug use in the country, emphasized this issue: "What Brazil is doing is to increase the prison population in alarmingly precarious conditions. We aren't solving anything, we aren't offering treatment to anybody, and we're incarcerating masses of Brazilians in overcrowded, degraded prisons."
The consequences of this burgeoning contingent are increasingly evident, according to Patricia Constantino, researcher at the National School of Public Health (ENSP/FIOCRUZ), who works at the Latin American Center for Studies on Violence and Health (CLAVES). "Overcrowding impacts various aspects of inmates' lives, from their daily routines – how they sleep and spend their time in prison – to their health conditions. I'm referring to both their physical and mental health, which go together and are impacted by this overcrowding."
Health, or lack of health, is one of the most tangible results. The precarious health conditions in prison lead to contamination and the development of various types of diseases. Says Martinho Silva, a researcher in the project "From plan to policy: guaranteeing the right to health for everyone in the prison system", conducted by FIOCRUZ with the support of FIOTEC: "Unhealthy conditions in prisons means putting the people confined to these institutions in a situation of vulnerability, exposing them to other diseases and health problems, like infectious and contagious diseases, including TB, simply because they live in filthy cells."
In the world of crime
In addition to its punitive nature, the Criminal Enforcement Act aims to prepare offenders to resume life in society, through so-called social reintegration. The question is whether this objective is being met. Theoretically, convicts are confined because they pose a risk to society and to themselves. But the prisons themselves are subject to organized crime factions and ubiquitous danger.
"Society believes that prisons are doing their job. But if we analyze the issue from the perspective of social reintegration, prisons are hardly coming close to this mission. Under these conditions, what they do is to make the person revolted, make him feel worthless," said Patricia, who also discussed how this affects inmates' identity. "What the prison system reinforces is their criminal status. All the time, or most of the time, these people are only living with crime, with people from the world of crime. This impacts them somehow. It's not cause-and-effect, not linear determinism, but it's an environment where crime is the order of the day. It reinforces this criminal identity," she says.
Other data are even more alarming. According to the researchers, a major portion of the inmates have not even been sentenced. Many others have been deprived of freedom because of petty theft or drug peddling, mostly without involving violence. Meanwhile, some have committed violent crimes, and these are all mixed with the others in overcrowded, unhealthy cells.
Martinho explains that when we speak of health in prisons, it is important to distinguish between crime and violence, since not all crimes are violent. We should also distinguish between suffering and disease, since not all problems resulting from confinement can be diagnosed as disorders. "Although prisons can be seen as scenarios where abuse is common, the reason a person is deprived of freedom does not always involve physical aggression, and although many people deprived of the freedom suffer sadness, this cannot necessarily be considered a mental disorder before or after experiencing the situation of confinement," she explained.
The truth is that prison inmates are deprived of the right to come and go, but all their other rights are guaranteed by law. When they enter prison, they need to have access to basic items like healthcare and food. The lack of these rights is a road to feeling revolt or to engage in internal agreements with other prisoners.
"You take an 18-year-old kid who was just smoking a joint and throw this kid in with an organized crime faction like the PCC or the Comando Vermelho, and what you're actually doing is training this kid, so when he gets out he commit much more serious crimes," said Francisco Inácio.
Finding solutions
Reducing the number of inmates, avoiding contact between non-violent offenders and members of organized crime factions, opportunities for work, and improved health conditions: all these are examples of ways to help solve the crisis in Brazil's prison system. It sounds easy in theory, but it's still difficult in practice. Where to begin?
"The first step is for the prisoners that are being held temporarily to have their sentences handed down, since many of them have already served the time they're going to receive. That would definitely decrease the number of people in prison. It would also be necessary to determine whether these people, even sentenced, could receive some alternative measure. Do these people really have to be incarcerated?" Patricia asks.
Improving the current situation in the Brazilian prison system also requires improving health conditions. Martinho Silva supports the idea. "Initiatives in social participation by persons deprived of their freedom – whether in health councils, or by training dozens of health promoters, a kind of 'community health worker' in the prison, or even with the person who is deprived of freedom as part of the health team – would go a long way to changing the current prison situation," she concluded.
Born in Prison
Although women represent less than 10% of all inmates in Brazil, the female prison contingent increased by 80% from 2004 to 2010. The group deserves special attention, because it is frequently neglected. From 2013 to 2016, FIOTEC supported the project entitled "Maternal and child health: women's voice", which aimed to shed light on the experience of motherhood for women in custody in order to help develop policies for comprehensive healthcare for female inmates.
According to the project, more than one-third of pregnant inmates reported that were handcuffed when admitted to hospital for childbirth. The study also found that 83% of female inmates have at least one child, 55% had fewer than the recommended number of prenatal visits, 32% had not been tested for syphilis, and 4.6% of the children were born with congenital syphilis. These and other data will provide the basis for the documentary "Born in Prison", addressing the reality of these women today. The video is still in production, but the trailers have already been released. Watch here:
Nascer nas prisões: impacto social and Nascer nas prisões: gestar, nascer e cuidar.