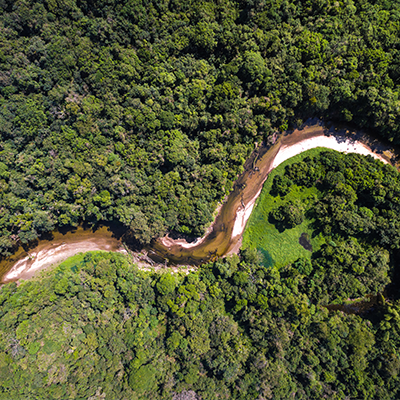 Amazonia Day was celebrated on September 5 in honor of the date in 1850 when Dom Pedro I created the province of Amazonas. The region harbors more than half of the remaining tropical forests on the planet and the world's greatest biodiversity for a tropical forest. The date was created to encourage discussion on the rainforest's importance for the planet, due to its wealth of animal and plant life and as a source of natural resources.
Besides celebrating the region, the date aims to raise people's awareness on the importance of preserving the Amazon, beside encouraging debate on current problems like unbridled exploitation of natural resources, deforestation, biopiracy (smuggling of animals and plants), illegal hunting and fishing, and land disputes.
Reforestation of 344 hectares of the Atlantic Forest
Since 2011, FIOCRUZ has a partnership with the National Economic and Social Development Bank (BNDES), with the support of FIOTEC, in the Ecological Restoration project on the FIOCRUZ Campus. The aim is to restore 344 hectares of degraded areas in the city of Rio de Janeiro. These include 108 hectares in ciliary areas on the FIOCRUZ Atlantic Forest Campus (CFMA) and 236 hectares in the Pedra Branca State Park.
The project's initiatives include revitalization of the Campus school garden and a nursery to produce 250 thousand seedlings of native species; training and inclusion of the surrounding communities through environmental education and direct involvement in the project; and marking regional native specimens for strengthening seeds with plant and genetic diversity.
Other initiatives
FIOTEC has also supported other initiatives with a focus on the region. An example is the "Project for evaluation of the impact on health: a tool for social and environmental management of development projects in the Amazon", the aim of which was to build an explanatory model for the evaluation of health impacts, based on several development projects in the Amazon, demonstrating the applicability of the knowledge generated for public health.
FIOCRUZ also supported doctoral courses at FIOCRUZ Amazonia, aimed at training faculty, researchers, and health professionals in Amazonia for the development of analytical models for production processes and endemic diseases in the region.
Learn more about FIOCRUZ Amazonia.