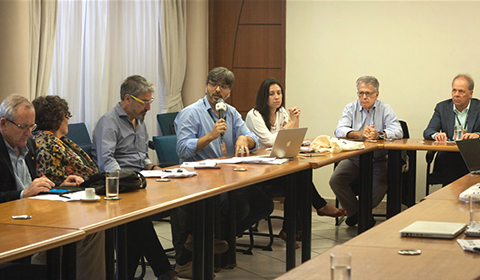 In mid-December 2017, FIOCRUZ welcomed representatives from the Canadian Institutes of Health Research (CIHR), one of the world's leading institutions in the field of health research. The event, hosted by the Office of the President of FIOCRUZ and organized by the FIOCRUZ Global Health Center (CRIS), aimed to launch a discussion on future collaboration in various areas, including antimicrobial resistance, HIV, social sciences, indigenous peoples' health, e-Health, and healthy cities, among others.
The meeting was attended by FIOCRUZ President Nísia Trindade, Vice-President for Research and Science Collections, Rodrigo Correa de Oliveira, and Director of the Global Health Center, Paulo Buss, among others. Ana Carolina Gomes, analyst of Projects Initiation at FIOTEC, was invited to participate and represent the institution. "The partnership between FIOCRUZ and CIHR will definitely be successful, producing excellent results," she reported.
Partnership with Canada
Partnership between FIOCRUZ and Canada already existed. The Foundation has projects financed by the International Development Research Centre (IDRC), which is also part of the Canadian government. These initiatives are also supported by FIOTEC. An example is the project "Development and deployment of low-cost, paper-based Zika diagnostics", coordinated by Lindomar Pena, a researcher at the Aggeu Magalhães Institute (IAM/FIOCRUZ Pernambuco), aiming to develop and validate molecular sensors for Zika virus in samples from humans and insect vectors.