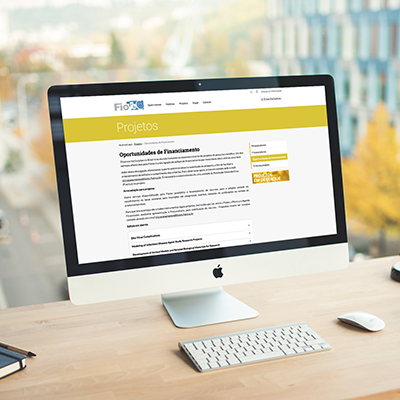 FIOTEC's work involves logistic, administrative, and financial support for the projects developed by FIOCRUZ. The Foundation's researchers generally look for an institution with which to sign a partnership agreement. Yet the scenario has been changing for some time. FIOTEC has begun work with prospecting and fundraising, not only receiving projects.
The institutional website has always published news on calls for projects by research funding agencies. Yet in 2015, when the number of projects began to draw growing attention, along with dwindling government funding, FIOCTEC began approaching the work differently. The initial kickoff was by the Project Initiation team, with Special Projects advisor Flávia Estill.
"At first we were only looking for calls for projects involving funding. That was the first move at FIOTEC. During these searches we got some replies, some referrals, but still on a very limited scale. We thus glimpsed a more basic need for a larger workforce," explained Eliana Cavalcante, supervisor of Project Initiation. Starting in mid-2016, we began to think of better organizing and structuring this work, to improve the searches for opportunities."
Partnerships and joint work
Beyond the search for calls for projects, the people involved in this fundraising process began to map out the known sponsors and partners, in addition to partnering with FIOCRUZ to better develop the work. In other words, to identify the existing networks in FIOCRUZ and the researchers' needs, attending events for exchange of experiences.
FIOTEC currently has a partnership with the Global Health Center (CRIS/FIOCRUZ) [see this edition's lead story], the Society for the Promotion of the House of Oswaldo Cruz (SPCOC), and the networks that are being organized in the Foundation, like the FioCancer Network. "We began to realize that FIOCRUZ is experiencing a similar process to that of FIOTEC, in search of funding, and this work in partnership has been crucial", highlighted the Project Initiation supervisor.
Publicizing FIOTEC and opportunities
FIOTEC works in various ways to publicize the opportunities identified by FIOCRUZ researchers. Of course, the first and most important way is personal contact, whether at institutional events held by FIOCRUZ or at meetings with partners, announcing opportunities and possible forms of action and submission of proposals. Whenever there's a possibility for interaction, the people involved take advantage of the opportunity to position FIOTEC.
Another way is through communications channels. Reformulation of the website a year ago provided for this. The site now features strategic pages designed for the researcher and funder, and one dedicated to opportunities. The latter lists all the open calls for projects identified by the institution. The webpage also allows signing up on the FIOTEC mailing list. Every two weeks, when new opportunities appear, this group receives an e-mail with all the available calls for projects.
The opportunities are also published as new stories on the website and through FIOTEC's social networks – Facebook, Twitter, and Linkedin.
Want to receive news on the opportunities? Sign up on the FIOTEC site.