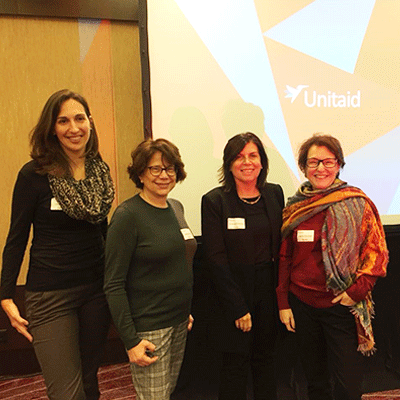 From February 27th to March 1st, Special Projects analyst Leila Spelta visited Geneva with the coordinators of the project entitled "Implementation of HIV Pre-Exposure Prophylaxis" (ImPrEP). The purpose of the visit was to participate in the forum organized by UNITAID, the agency that funds the project, and in meetings with various other international organizations. Representing FIOTEC, Leila joined Valdiléa Veloso, coordinator of the project, Beatriz Grinsztejn, head of LaPClin-Aids, and Cristina Pimenta, representative of the Brazilian Ministry of Health and collaborator in the project.
February 27th focused on parallel meetings of the organizations on various topics, such as the projects' financial issues, HIV, and others. February 28th and March 1st featured the Forum on UNITAID Grant Implementation, in which 27 organizations from different countries discussed their projects' challenges, successes, and approaches.
"The Forum was an excellent opportunity for projects to exchange experiences. It was helpful to discover that other institutions were experiencing problems that we'd already identified, like difficulties with reviewing the use of resources, for example. The fact that this issue was debated there in the Forum created the possibility for change and improvement," Leila explained.
Implementation of Pre-Exposure Prophylaxis (ImPrEP)
As the result of a joint effort between the Brazilian Ministry of Health and FIOCRUZ through the Laboratory for Clinical Research in STD/AIDS (LaPClin-Aids), with funding from UNITAID, the initiative aims to provide antiretrovirals to some 7,500 persons uninfected with HIV, with the objective of reducing the risk of acquiring the disease through sexual transmission, mainly among men who have sex with men, transsexual women, and transvestites. The study will be led entirely by the Oswaldo Cruz Foundation (FIOCRUZ), but in addition to Brazil, the initiative includes other Latin American countries like Mexico, Peru, and others.