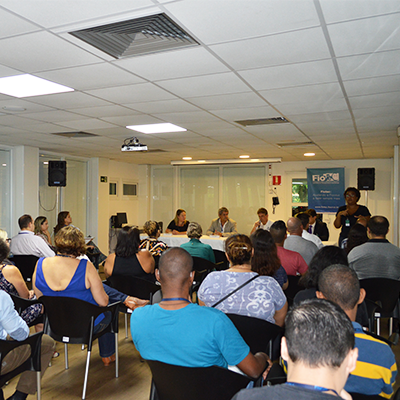 From March 5 to 9, FIOTEC held the first training course for persons with disability (PwDs) under the "Conviver" Program. Through an agreement with the State Secretariat of Labor and Income (Setrab), the program is scheduled to train 200 persons with disability for the labor market.
The first day of the course began with an inaugural class with seven students, besides administrators and members of the board of FIOTEC and PwDs who work at FIOTEC. The opening round table included the Superintendent of Professional Training and Capacity-Building, Carlos Vivas; deputy secretary of Professional Training and Capacity-Building Oswaldo Berge; Human Resources manager Raquel Raad; and Executive Director Hayne Felipe.
Hayne Felipe, speaking on behalf of the Board of Directors, expressed his pride in the program. "We intend to continue working and struggling for a better world, where more people are included. Everything we can do is worthy of praise if it helps include everyone in society, and with decent living conditions," he said.
The inaugural class also featured participation by staffer Mauro Brasil, a physical therapist at FIOTEC and Paralympic medal winner. Mauro shared his moving life story as an athlete and health professional. The physical therapist was happy to be participating in the event. In addition to sharing his story in the opening session, he volunteered to talk about ergonomics with the students. Since he also works as a physical therapist in the Olympic and Paralympic sports at the Vasco da Gama Regattas Club in Rio, Mauro brought one of his fellow athletes to participate in the event. Giovanni Eschenazi shared his story as an athlete and how it opened doors for his personal fulfillment. He now has a bachelor's degree in physical education and is studying to become a professor in his field.
"When a PwD applies for employment, they tend to offer him very narrowly defined jobs and minor positions. But I had an opportunity that changed my life. I worked in the Rio 2016 Olympic Committee as an intern, met a lot of people, and together with Human Relations we created an inclusion project. From then on, I become a kind of consultant. The project was successful and won several awards. I started as an intern and ended up as a coordinator. I'm really proud, because not only my own life changed, but the lives of these people who came to be seen not according to their image, but by their training and character," the athlete explained, concluding the inaugural class.
Exchange of experiences
During the course, the students received classes on Occupational Health, Quality Improvement, fundamentals of Labor Legislation, personal presentation techniques, and others. All the classes were administered by FIOTEC staff members on a voluntary basis. The program not only trained the students, but also served as a great learning process for the staff, who had the experience of sharing knowledge with others. "As Paulo Freire teaches us, every pedagogical process is a two-way street. So, even while we're working with training to promote our students' inclusion through this partnership with the secretariat, we also need to learn to understand our side of the equation and how we can share our knowledge, how we can help people through inclusion," said Hayne.
Conviver Program
In 2015, the Human Resources Department began to develop the Conviver Program, born of the institution's need to meet the job quotas set by the Ministry of Labor. Since FIOTEC hires personnel through the Projects, the quota has always been higher than the FIOTEC Administration was able to meet. The legal department thus suggested creating a program for inclusion and training of PwDs. The project had already held several awareness-raising workshops for FIOTEC staff, gained momentum, and developed into a program, which was submitted to the Secretariat of Labor and Employment. This led to the formal agreement to begin the training courses this year.