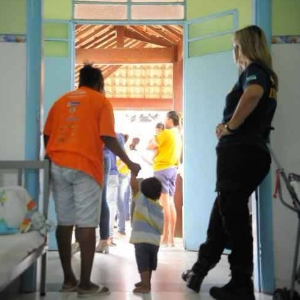 FIOTEC supported a project for nearly three years, aimed at documenting the situation of incarcerated women living with their children in prisons in Brazil's state capitals and major geographic regions, as well as the characteristics of prenatal and childbirth care during incarceration. According to the "Birth in Prison" project, more than one-third of these women reported having been handcuffed while they were hospitalized for labor and delivery, 83% had at least one child, 55% received fewer than the recommended number of prenatal visits, 32% had not been tested for syphilis, and 4.6% of the infants were born with congenital syphilis.
The analysis was based on a case series from a nationwide prison census from August 2012 to January 2014. According to the survey, 31% of incarcerated Brazilian women are heads of families. A total of 241 mothers were interviewed, of whom 45% were less than 25 years of age, 57% were brown (mixed-race), 53% had fewer than eight years of schooling, and 83% had more than one child. Access to prenatal care was inadequate for 36% of these mothers. During hospitalization for labor and delivery, 15% reported having suffered some form of violence (verbal, psychological, and/or physical).
"We visited all the women's prisons in all the state capitals and regions of Brazil that incarcerate pregnant women and mothers. We discovered that these women are receiving little social or family support and that more than a third are handcuffed during hospitalization for childbirth. When compared to women users of the public Unified National Health System (SUS) in general, incarcerated women received worse prenatal and childbirth care." The study also showed a difference in the women's assessment of the care received during hospitalization for labor and delivery, revealing a bias according to the mother's socioeconomic status. "Poor black or brown female inmates reported lower levels of satisfaction with care," said Maria do Carmo Leal, the researcher from the National School of Public Health (ENSP/FIOCRUZ) who coordinated the study together with researcher Alexandra Roma Sánchez.
Legacy for women's rights struggle
In addition to the numbers and statistics gathered by the study, one subsequent result of the project was the production of a documentary film, "Birth in Prison: pregnancy, birth, and childcare behind bars", based on the study and featuring interviews with mothers and healthcare professionals. The documentary was directed by Bia Fioretti.
The VideoHealth FIOCRUZ Channel on YouTube also posts the documentary "Birth in Prison: social impact", in addition to various other video productions on the Foundation's projects.

*Based on information produced by CCS/FIOCRUZ.