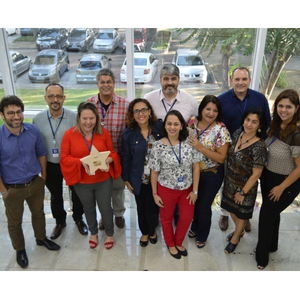 This month, FIOTEC received the news that the institution ranks 18th as the "Best Place to Work" on the InfoJobs website. The award, given for the first time in 2018, names the 100 best companies to work according to employees and former employees themselves.
According to the site, there are three types of rankings, and each refers to a type of company: small, medium, and large. Small organizations need to receive at least 10 assessments, medium-sized companies at least 20 assessments, and large companies at least 50 assessments. The list is updated monthly, and the institution with the highest score ranks first.
All candidates that register with InfoJobs have the possibility of assessing their current and former workplaces. These assessments are made spontaneously, and all the recorded data confidential, which guarantee the anonymity of individuals that perform the classification. FIOTEC currently has 96 assessments, with an average of 4.8 points out of a possible 5. The ranking classifies FIOTECT as a large-scale organization, due to the assessments by workers affiliated with projects supported by FIOTEC.
Many highlighted the work environment and good relations with the directors in their assessments. These included employees from the health and administrative areas, as well as those allocated to the project "Webs –Manguinhos School", an initiative that combines actions in the Family Health Strategy, care for the population around the FIOCRUZ campus at the Manguinhos Emergency Care Unit (UPA), and follow-up for individuals with chronic mental disorders at the Center for Psychosocial Center (CAPS), also installed in the community. The project has received support and management by FIOTEC since 2009.
To check the complete ranking with all the listed organizations, click here.