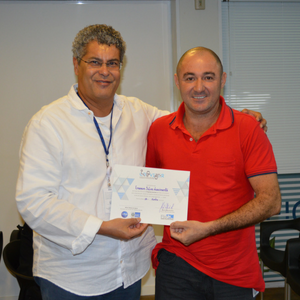 The Conviver Program, an initiative by FIOTEC for professional training of persons with disabilities (PWDs), has just awarded certificates to its second class. The training took place on June 13 to 19.
The project is developed through a partnership with the Rio de Janeiro Department of Labor and Income (SETRAB), responsible for the selection and referral of candidates to FIOTEC. At the institution, students participate in talks and debates on a wide range of areas of work, given by FIOTEC employees. This is a two-way learning process: participants have contact with contents related to corporate communication, document management, and personnel management, while the institution's employees have the experience of adapting their discourse to transmit their knowledge to people who use a wide variety of languages.
Before the opening of the meetings for the second class, Marcelo Amaral, administrative director of FIOTEC, highlighted the program's importance and significance for the institution. "For us, Conviver is a commitment to society to be able to promote the country's social and economic development. It's a project that all of FIOTEC supports and that we all love. It's a source of pride for everyone."
In April this year, the Conviver Program trained its first students, but the project was really born in 2015 from the institution's need to meet the quotas set by the Ministry of Labor. Since FIOTEC hires the people through the projects it supports, the quota was always higher than the Administration could meet. This led to the creation of a program for inclusion and training of PWDs.
The project, which had already held some awareness-raising workshops for FIOTEC staff, gained new dimensions and became a program, which was submitted to the Department of Labor and Income. This was how the agreement came about to begin the training courses this year.