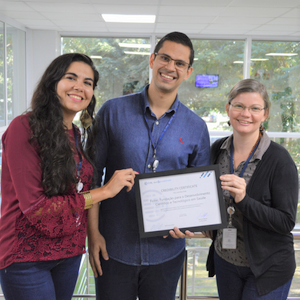 DUNS number serves as an identifier for the institution in foreign trade transactions
The FIOTEC team mobilizes every year for the institution to renew an important certification for foreign partner organizations. The DUNS number (Data Universal Numbering System) is internationally acknowledged as a common identifier for companies in the EDI (Electronic Data Interchange) and international trade transactions.
For the first time in 2018 and after some organizational restructuring, the Projects Initiation team (responsible for the dialogue between funding agencies and coordinators when a project is initiated) assumed the responsibility for identifying the documents and compliance requirements for the necessary procedures for FIOTEC to renew the certification. "Our assistant, Lucas Mata, did excellent background research to determine the correct path for the certification. Without the DUNS number, some North American agencies refuse to send us wire transfers, for example," emphasizes Eliana Cavalcante, supervisor of the FIOTEC Projects Initiation team.
Although the certification was already in force, Eliana Cavalcante says that her team maintains constant contact with the DUNS regulatory department. "It's an on-going process for FIOTEC to identify key administrative information, to complete questionnaires, and to provide financial analyses, all aimed at increasing our visibility with funders," she concludes.
In addition to the DUNS number, FIOTEC has several other accreditations and certifications backing the credibility of the institution's work. You can visit all of them on our website.