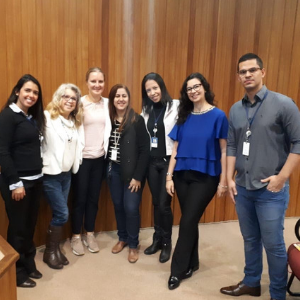 In addition to the theoretical knowledge, participants conducted practical exercises with the assistance of ERC expert Liane Lewerentz
On August 2 (Thursday), analysts from the Projects and Special Projects departments of FIOTEC participated in a training course held at FIOCRUZ and promoted by ENRICH, the European Network of Research and Innovation Centres and Hubs, with the aim of learning more about project submissions to the European Research Council (ERC).
Throughout the day, the FIOTEC staff learned about the financing options offered by the ERC and the steps and the reasons for applying for financing, besides having access to the ERC evaluation criteria and processes, which will assist the team strategically.
"It's positive for us [at FIOTEC], because we already perform this kind of service in general. When we receive a project, we orient the researcher, not on the technical aspects, but with the administrative part. So, we examine the title and abstract to see in advance whether they meet the COGEAD standards, or to get a step ahead in the project's execution. This was great for the researchers to actually see the submission from the perspective of those who are evaluating it," explains Rafaela Delduque, Projects Initiation analyst.
In addition to the theoretical component, the group did real-life practical exercises with the help of the course instructor Liane Lewerentz, an expert in proposals submitted to ERC since 2011 and who has more than ten years of experience in research and funding policies in the European Union. She currently works as the national focal point for Germany with the ERC.
According to Rafaela, the ERC focuses on groundbreaking projects, or ones that are innovative in their respective areas. For a research project to be approved, it is important to focus on its differential features, its impacts in the field of research, and to write concisely but comprehensibly.
The European Research Council (ERC) is part of Horizon 2020, the current program of the European Commission that was implemented in 2014 and lasts until 2020. The calls for projects will offer a total of 80 million euros for research and innovation, in addition to private investments. The aim is to encourage scientific excellence in Europe, financing the best and most creative researchers of any nationality and age, supporting their innovative ideas.
In addition to Rafaela Delduque, FIOTEC sent Lucas Mata, also from Projects Initiation, and Thais Avellar and Sabrina Vieira, from Special Projects management.