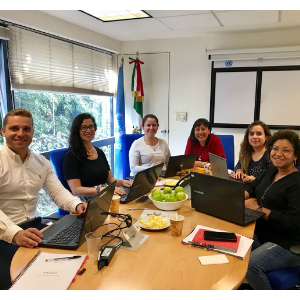 The international project known as ImPrEP, one of the main projects currently managed by FIOTEC, is now in its second year, and FIOTEC staff are preparing to deliver the semiannual report to Unitaid (the project's funding agency) by August 31. Lidiane Lima, Thais Avellar, and Renan Capossi of Projects Management visited the offices of the UNFPA (United Nations Population Fund) and Universidad Peruana Cayetano Heredia (UPCH) in early August.
The meetings aimed to present the new FIOTEC team and address questions on financial aspects raised by Unitaid when they visited the institution in June, in addition to more efficiently collecting the necessary information for the semiannual report.
"Unitaid signed this contract with FIOTEC, and unlike the situation with other projects, FIOTEC has total responsibility over both the technical and financial components. So, although we have the team led by Dr. Valdiléa [the project coordinator], the people responsible for the project, we need to consolidate and send everything through FIOTEC," explains Renan Capossi, Projects analyst.
As Renan further explained, the meetings also addressed the next steps for the second half of the year: hiring auditing firms and definition of audit procedures in Peru and Mexico.
Implementation of Pre-Exposure Prophylaxis (ImPrEP)
As the result of a joint effort between the Brazilian Ministry of Health and FIOCRUZ, through the Clinical Research Laboratory in STD/AIDS (LaPClin-Aids), with funding from Unitaid, the initiative aims to offer antiretrovirals to approximately 7,500 persons uninfected with HIV in order to reduce the risk of infection by sexual transmission, especially among men who have sex with men, transsexual women, and transvestites. The Oswaldo Cruz Foundation (FIOCRUZ) has total responsibility for leading the study, while the initiative includes two other Latin American countries, Mexico and Peru.