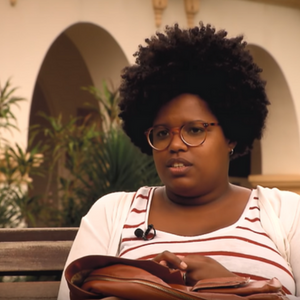 The television channel of the Higher Labor Court broadcast the documentary "Learning: building the future" on YouTube last Sunday, August 26. Six young trainees from different cities of Brazil share their life stories and describe how the trainee program opened new possibilities for a successful future with job opportunities.
Ananda Cantarino, featured in the documentary, was a trainee in the program offered by FIOTEC in 2014 and 2015. She tells a little about her internship at FIOTEC in the Human Resources and Legal Departments, a path developed by the training program called Job Rotation.
Ananda is now employed and working fulltime at the headquarters of Google Brazil in São Paulo. She tells in the online TV program about how she worked for two months in the Communications Advisory Department of FIOTEC, where she adapted readily to the various work demands and dynamics. The orientation she received from the team leader sparked her ambition to study Journalism and to work in Communications.
Training at FIOTEC
The Young Trainees Program implemented by FIOTEC today began with an exchange of experiences between staff members from various departments. It all began with a project presented by the Human Resources Development Center under the institution's Personnel Management Division, in which the initial objective was to develop an internship program at FIOTEC. The project was eventually adapted and transformed so that the work by young trainees would not be limited to just one area of the institution.
"Our focus has always been to view these adolescents that aspire to enter the job market and transform them into professionals. That's why the idea of job rotation is to allow these young people (who have no prior work experience whatsoever) to have contact with the institution's various activities. Ananda herself left here [FIOTEC] in love with Communications, although she had said in her original interview that she was thinking of becoming a dentist," explains Aline Caputi, the Personnel Management professional who was the program director during Ananda's internship.
Aline Caputi accompanied the young woman's development closely at the institution. She highlights the orientation received by the young people as one of the key features of the FIOTEC program. "It's highly rewarding to look at professionals today and realize that they're successful in their chosen careers, knowing that what you said, that conversation you had years ago, helped them become the people they are."