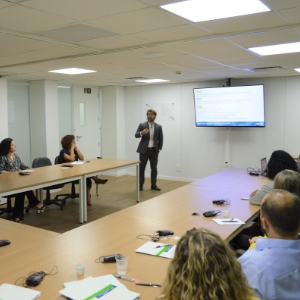 Presentation by Marcelo Wendeling, administrative director of FIOTEC.In November, representatives from CDC Atlanta visited FIOTEC for the first time for a meeting on the project "Strengthening Brazil's National Response to HIV and Other Diseases". The U.S. Centers for Disease Control and Prevention (CDC) funds the initiative that began in 2013, led in Brazil by researcher Marly Cruz of the Sergio Arouca National School of Public Health (ENSP/FIOCRUZ).
Besides the representatives from the CDC headquarters in Atlanta, the meeting included professionals from the CDC Brazil office in Brasília. Everyone was welcomed by the analyst in charge of the project at FIOTEC, Lívia Mureb, the supervisor of International Projects, Lidiane Lima, and administrative director of the institution, Marcelo Wendeling.
The meeting began with a presentation by Marly Cruz, who shared the main results of the activities conducted through the partnership in recent years. The researcher explained the planning and administrative flows and the nature and attributions of each institution involved in the project: ENSP/FIOCRUZ, CDC, and FIOTEC.
Next, it was Marcelo Wendeling's turn to present the context in which FIOTEC was created and the services performed by the institution today. He mentioned the work in the development of Participatory Strategic Planning at FIOTEC, launched under the current administration and coordinated by executive director Hayne Felipe. "The aim is to revisit our mission, vision, and values, knowing that it is important to remain aligned with the guidelines of the Oswaldo Cruz Foundation, serving the management of projects developed by FIOCRUZ in the best way possible."
Partnership in the fight against diseases
The main objective of the cooperative agreement between FIOCRUZ and CDC is to strengthen the Brazilian response to HIV and other diseases through innovative approaches based on evidence from the laboratory, strategic information, prevention, and care. The project also promotes partnership between Brazil, Angola, and Mozambique in the sphere of the President's Emergency Plan for AIDS Relief (PEPFAR).